MSc candidate Andrew Steiner is the 2019 recipient of the Mary-Claire Ward Geoscience Award!
Andrew's research aims to map auriferous fluid pathways, identify the geological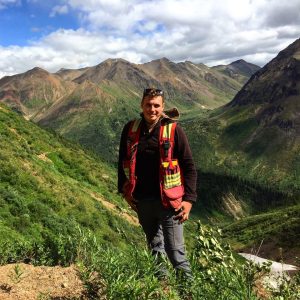 controls on fluid flow and assess the physiochemical evolution of ore fluids in the Carlin-type gold deposits of the Nadaleen trend in northern Yukon.  Andrew is supervised by  Ken Hickey.

Andrew will accept his award at the #PDAC2019 Convention! https://www.pdac.ca/members/students/awards/mcw
The Mary-Claire Ward Geoscience Award was created to honour the memory of Ms. Ward. The intent of the award is to encourage and support a graduate student in Canada whose thesis is likely to increase our knowledge of the geological history of Canada through mapping.  The award, comprising $5,000 and a certificate, is given annually and honours the memory of Mary-Claire Ward who died in 2004. At the time of her death Mrs. Ward was the chair of the PDAC's geoscience committee, chairman of Watts Griffis McOuat Ltd., and a past president of the Geological Association of Canada. She was a passionate advocate for the geosciences in Canada.