MDRU research into the transitions that exist between epithermal and porphyry systems in northern BC's Toodoggone District, has recognized features that indicate that exposed and mineralized porphyry copper deposits are only between 150 and 300m beneath the epithermal systems that were previously exploited.  Additional geological, mineralogical and geochemical data together form a very compelling story about the characteristics of the this transitional zone, but more importantly point to valuable opportunities for porphyry systems where previously attention had been focused on the small epithermal systems.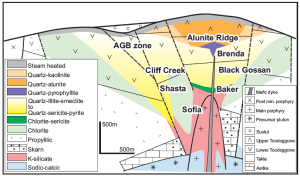 Go to the "Exploration Framework for Porphyry to Epithermal Transitions in the Toodoggone Mineral District, BC" project page at https://www.mdru.ubc.ca/projects/toodoggone-geology/
This project was funded by GeoscienceBC, see the project page at: http://www.geosciencebc.com/projects/2016-013/
Deliverables include a final report, maps, GIS files, a rock atlas, and digital appendices of analytical data.
For further information, contact the researchers, Farhad Bouzari fbouzari@eoas.ubc.ca or Craig Hart chart@eoas.ubc.ca